Summer 2010: Prophetic and Imaginative Leadership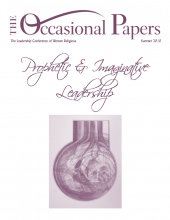 In August 2006, Walter Brueggemann wrote, "In the ancient world of the Old Testament, prophetic imagination ... conjured a better world that extended mercy and justice to the weak and marginalized. In our contemporary world, prophetic imagination can do no less. Its task — neither conservative nor liberal — is to expose and critique the false ideologies of consumer militarism and to propose a better world of neighborly justice and mercy. As in the ancient world, so now in our contemporary world, such practice — rooted in old texts and memories —requires courage, freedom, and daring, nothing less than the work of voicing and enacting the world anew... according to the holiness of God."
As women religious continue to explore our corporate identity and mission in the world, Dr. Brueggemann's insights on prophetic imagination can help us frame the questions we most need to ask ourselves. What is the world seeking from consecrated religious? What can religious bring to this rapidly changing global community that searches for meaning and whose basic needs still often go unmet? How might we wish to shape religious life as it moves into an unknown and most likely vastly different future?
In this issue of Occasional Papers, Dr. Brueggemann shares some additional thoughts on the prophetic imagination that relate to many of the critical questions women religious are asking today. Ten women religious also submit from the well of their own reflection and experience their insights into prophetic and imaginative leadership.
As you read this issue, you may wish to ask yourself:
What are the imaginative ways to approach the challenges of these times – in society, the church, and our religious institutes?
How can we prepare our institutes to be truly prophetic communities as we move into the future?
Contents
The Prophetic Imagination:  A Call to Women Religious Leaders
In an interview, Dr. Walter Brueggemann offers important insights on the role of the prophetic imagination that can prove most useful to religious life leaders
Leading Prophetically and Imaginatively in Times of Crisis and Loss
Sally Duffy, SC offers an analysis of the leadership of women religious in New Orleans after Hurrican Katrina, drawing on Brueggemann's insights on prophetic imagination
Welcoming the Wisdom Within:  Musings on Creative Leadership
Artist and leader Doris Klein, CSA offers practical suggestions for engaging the intuitive energy needed for imaginative leadership
What We Believe is the Role of Religious Life in These Times
Eight LCWR members reflect on the shifting role of religious life in the context of the new millennium
For Your Reflection...
LCWR offers some reflective statements for leaders and their members to consider after reading this issue of Occasional Papers