Summer 2018: Staying Grounded in a Time of Uncertainty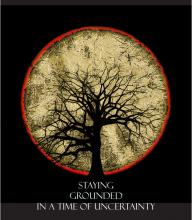 Staying Grounded in a Time of Uncertainty
The Summer 2018 issue of Occasional Papers focuses on how we might effectively thrive in the uncertain and difficult situation in which the world finds itself. How can we be grounded in our deepest selves and with God at a time of great outrage, disbelief, and fear for what is ahead? How do sustain ourselves and not become hopeless or numb in light of disconcerting political and ethical decisions we watch being made? What is the role of religious life in response to this milieu? How might religious life leaders make a contribution to the spiritual hungers and needs that are present in society today and among their own members?
Topics explored in this issue include: 
Managing the wide range of deep and perhaps unfamiliar emotions that arise in situations of great uncertainty
Combatting racism within ourselves and our religious communities
Living and practicing the call to work for a more just world
Learning from Earth how to live interdependently 
Keeping our horizons wide and our thinking broad
An interview with author Alan Briskin about the power of collective wisdom
An interview with author Thomas Moore about the soul work needed for these times.
Contact Carol Glidden at cglidden@lcwr.org with any questions.