Summer 2020: Our Journey to the Borders and Beyond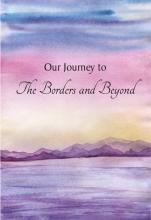 The Summer 2020 issue of Occasional Papers, Our Journey to the Borders and Beyond, will be an important edition that looks at the call to religious in these chaotic and rapidly changing times. Writers in this issue explore the kind of presence religious are invited to embody for the sake of the world. How do we live with authenticity, integrity, and depth this spiritual journey that takes us to the borders of what we have known and compels us to move beyond? What does the world -- in all its changing dimensions -- most need for us to be?
A highlight of this issue is an interview with the poet, David Whyte. In addition, the issue features an array of interesting articles that probe the spiritual journey and what the mission of religious life might mean as we move into the future. 
Contents
How to Tend to the Soul of the World - Chris Koellhoffer, IHM explores the provocative question: Are we being good ancestors? 
Being the Work: The Learnings and Spiritual Yearnings of These Times - Michelle A. Scheidt shares why the work of spiritual transformation is urgently needed righ now
Living and Leading From a Place of Immense Horizon - David Whyte in an interview speaks of the essential role of spiritual practices, and particularly the contemplation of poetry, in the work of transforming the world
Building a New World Through Partnerships & Alliances - Kathleen Popko, SP explores how the shift in global consciousness might be an invitation to religious to work more deliberately in partnerships with others
The Allure of What We Are Becoming - David Cinquegrani, CP reflects on what this time of upheaval might be inviting us to become
The Courage to Cross Borders and Go Beyond - Marie Lucey, OSF shares what a life of border-crossing has taught her
The Value of Presence & Solidarity - Ardeth Platt, OP illustrates the power of presence to another by recounting her experiences as an inmate serving time for civil resistance
Living Religious Life Today - Lisa Buscher, RSCJ and Virginia Herbers, ASCJ share insights on what this new time in the world might abe calling from women religious
For Your Reflection - Ideas for unpacking the insights of these authors and interviewee