April 23, 2009 -- LCWR Officers Statement on Doctrinal Assessment of LCWR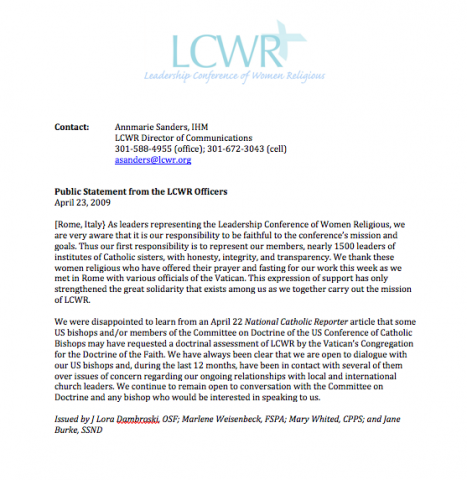 [Rome, Italy] April 23, 2009- As leaders representing the Leadership Conference of Women Religious, we are very aware that it is our responsibility to be faithful to the conference's mission and goals. Thus our first responsibility is to represent our members, nearly 1500 leaders of institutes of Catholic sisters, with honesty, integrity, and transparency. We thank these women religious who have offered their prayer and fasting for our work this week as we met in Rome with various officials of the Vatican. This expression of support has only strengthened the great solidarity that exists among us as we together carry out the mission of LCWR.
 We were disappointed to learn from an April 22 National Catholic Reporter article that some US bishops and/or members of the Committee on Doctrine of the US Conference of Catholic Bishops may have requested a doctrinal assessment of LCWR by the Vatican's Congregation for the Doctrine of the Faith. We have always been clear that we are open to dialogue with our US bishops and, during the last 12 months, have been in contact with several of them over issues of concern regarding our ongoing relationships with local and international church leaders. We continue to remain open to conversation with the Committee on Doctrine and any bishop who would be interested in speaking to us.