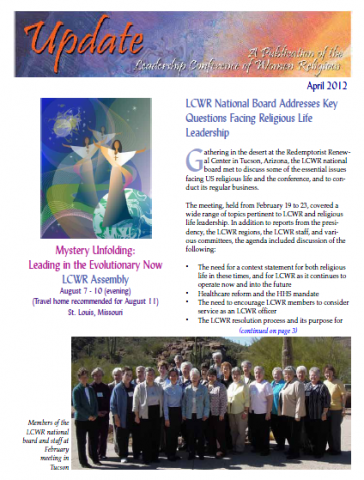 What's Most Essential?
Perhaps you have experienced what I just have. I recently returned from several days on the road to a pile of messages and unfinished tasks on my desk. I began to sort, asking myself, "What needs most immediate attention here? What do I do first? What's most essential?" As I set about prioritizing, those questions repeated within me and I began to hear them on multiple levels. I realized that "What's most essential?" is the ultimate Lenten question. It might just be the ultimate leadership question, as well.    
In this time of massive transition, as so much of religious life as we've known it falls away, how are we to lead? We are not passive spectators of the unraveling going on around us. Nor are we, as women of faith, alarmists. In fact, I am noticing a remarkable lack of fear and a curious sort of expectancy among us. We're also not called to be super women, catapulting ourselves into "fix-it" mode, as if working harder at more of the same would change the course of the future. But fortunately, sometimes when we're not even making an effort, important questions whisper themselves to us. What is essential to our role of leadership? What is essential to religious life going forward?
In the context of Lent, one answer I hear is "conversion." Isn't it core to our life of discipleship? It's the permanent path, the narrow gate, and we need a community to keep pointing us in its direction. The call to conversion invites a prioritizing and reordering not unlike sorting what's on my desk. It asks where I focus my attention and how I spend my time, where my treasure lies and where my heart is.
I've come to understand conversion less as an effort to do better. It's more about recognizing what I can't do. I am unable to see beyond the limits of my current consciousness, imagination, and vision. I am powerless to heal my own inner blindness, or to see what I've not yet been given to see. That awareness sends me back to the Source, reminds me who I am, after all, and who God is. God is the one who restores sight and gives the gift, in abundance. I am the one who needs to remember to ask and seek and knock, and to trust that what I need will always be given, a fish, not a stone.  
I am also unable, on my own, to move beyond the staleness of my response to the entrenched issues of church, society, and even my own congregation. To access the freshness and surprising twist of the Gospel's view, my reordering might be about placing myself where Jesus did, in those frowned-upon places with those less acceptable people and their questionable viewpoints. How, as leaders, do we do that while holding the tensions, but do it nonetheless? Just to hold the awareness of that invitation is the stuff of conversion.
Pat Farrell, OP