COP 21: Progress on Climate Change -- Finally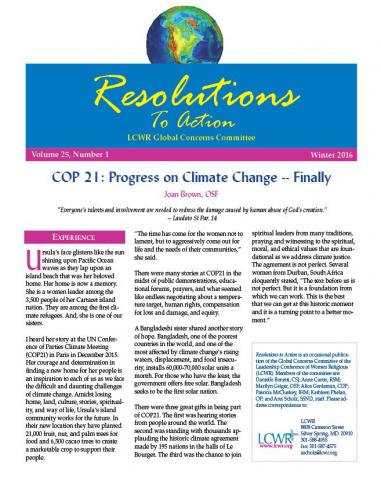 by Joan Brown, OSF
Ursula's face glistens like the sun shining upon Pacific Ocean waves as they lap upon an island beach that was her beloved home. Her home is now a memory. She is a women leader among the 3,500 people of her Cartaret island nation. They are among the first climate refugees. And, she is one of our sisters.
I heard her story at the UN Conference of Parties Climate Meeting (COP21) in Paris in December 2015. Her courage and determination in finding a new home for her people is an inspiration to each of us as we face the difficult and daunting challenges of climate change. Amidst losing home, land, culture, stories, spirituality, and way of life, Ursula's island community works for the future. In their new location they have planted 21,000 fruit, nut, and palm trees for food and 6,500 cacao trees to create a marketable crop to support their people.
"The time has come for the women not to lament, but to aggressively come out for life and the needs of their communities," she said.
There were many stories at COP21 in the midst of public demonstrations, educational forums, prayers, and what seemed like endless negotiating about a temperature target, human rights, compensation for loss and damage, and equity.
A Bangladeshi sister shared another story of hope. Bangladesh, one of the poorest countries in the world, and one of the most affected by climate change's rising waters, displacement, and food insecurity, installs 60,000-70,000 solar units a month. For those who have the least, the government offers free solar. Bangladesh seeks to be the first solar nation.
There were three great gifts in being part of COP21. The first was hearing stories from people around the world. The second was standing with thousands applauding the historic climate agreement made by 195 nations in the halls of Le Bourget. The third was the chance to join spiritual leaders from many traditions, praying and witnessing to the spiritual, moral, and ethical values that are foundational as we address climate justice. The agreement is not perfect. Several women from Durban, South Africa eloquently stated, "The text before us is not perfect. But it is a foundation from which we can work. This is the best that we can get at this historic moment and it is a turning point to a better moment."
Read more by downloading document below.