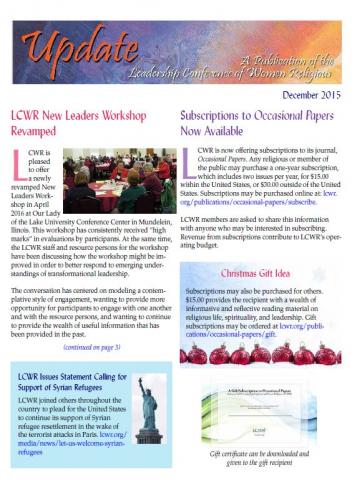 'What Do We Do While We're Waiting?
by Mary Pellegrino, CSJ -- LCWR President-Elect
"What do we do while we're waiting?" My four-year-old nephew asked as we arrived just minutes before opening time at the Children's Museum in Pittsburgh on a snowy December day more than a decade ago.  No concept of time, and the mere fact of a locked door between him and hours of unbridled play was enough to launch a panicked meltdown. 
I think of my nephew's question each year when Advent rolls around.  What do we do while we're waiting?  And more than that, what are we waiting for? 
Those questions seem particularly poignant for us as leaders in the generation of women religious alive today.
Of course we know how to observe Advent.  We've been doing it all of our lives  We know that Advent, both the season and the movement, calls us to prepare for a reality that is both now and not yet, a future whose essence is shaped by everything we do and everything we don't do in the present.
Read more by downloading the newsletter below