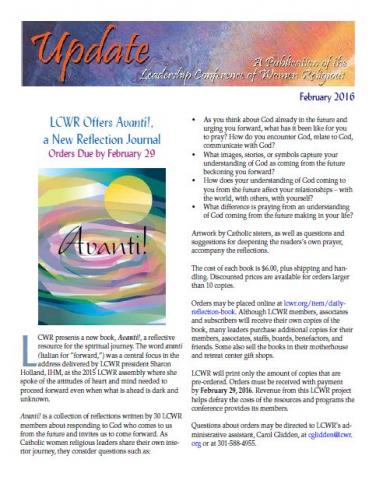 To Be an Oasis of Mercy
by Sharon Holland, IHM – LCWR Past President
In this Year of Mercy, 2016, can I be an oasis of mercy?
In a publicly televised address, President Obama said that whenever he thinks of the tragedy at Sandy Hook Elementary School, it makes him mad. But he did not look like an angry man; he looked like a father who wept at the thought of murdered children. He appeared a determined man, using all of the means at his disposal to limit access to guns by those not able to use them responsibly.
Any plan of action born of compassionate concern rather than angry retaliation surely is a sign of mercy. But mercy does not really begin with our actions. The Jubilee Year, Pope Francis states, "will be a year in which we grow ever more convinced of God's mercy…. Let us set aside all fear and dread, for these do not befit men and women who are loved." Loved by God, we are made capable of mercy.
Read entire reflection by downloading the newsletter below