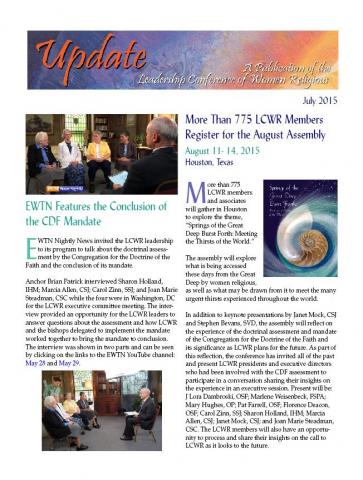 Thirsting for Water; Thirsting for God
by Sharon Holland, IHM -- LCWR President
Midsummer! 
As we look forward to our August assembly, we thirst for those waters which are yet to "burst forth" from the Great Deep. We thirst for God, for the waters of the Spirit, and for justice for the many who simply thirst for clean water.
By the time we arrive in Houston—in fact or in spirit—many will have read Pope Francis' Encyclical, "Praised Be:  On the Care of Our Common Home."  John Allen reminds us that the title is the beginning of St. Francis' "Canticle of the Sun": "Laudato Si". Praised be God, through Brother Sun, and Sister Water.
Commentaries on the publication of the encyclical have highlighted the notion of "integral ecology."  The text is seen as original in establishing a new relationship between social and eco-justice. Cardinal Turkson of Ghana, currently serving as president of the Pontifical Council for Justice and Peace, has identified the fundamental principles of integral ecology (David Pruett of Huffington Post (6/12/15).
The call to all peoples to be protectors of the environment is integral and all embracing.
Care for creation is a virtue in its own right.
It is necessary to care for what we cherish and revere.
A new global solidarity is a key value to direct our search for the common good.
Read more by downloading the newsletter as a PDF below.