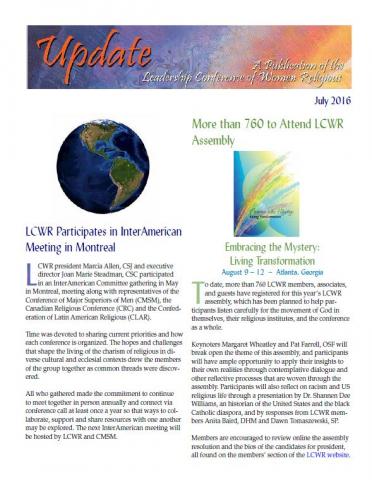 Mystery/Transformation -- A Butterfly Experience?
by Marcia Allen, CSJ -- LCWR President
Our 2016 assembly theme: Transformation and Mystery! We get the idea. Our lives will never be the same again. We are in the midst of a transformation from the known to the unknown. In his address to the Canadian Religious Conference in May of this year, theologian Simon Pierre Arnold, wove his thoughts about religious life around a theme that he called the "era of the butterfly," the title of his latest book.
Curious, I googled the metamorphosis process of the butterfly. Even though I had entertained many a cocoon in my elementary school classrooms I had never actually watched the way the monarch butterfly (or any other, for that matter!) laid its egg on a milkweed leaf, saw it hatch into a worm that ate itself into a stage of apparent somnolence, and then encased itself into a cocoon. What a show! The pulsing of life into a cocoon and then into a butterfly forming, slowly beginning to show itself through the cocoon walls that became more and more transparent until the butterfly could be easily identified. Then finally, the cracking of the cocoon walls and the slow emergence of a beautiful new being. Its wings were tiny and wet and needed to be exercised and preened. Eventually, the butterfly could make its way into the world – ready to create a path of beauty, pollinate various plants, and eventually find a milkweed and lay its eggs. Download the newsletter below to continue reading.