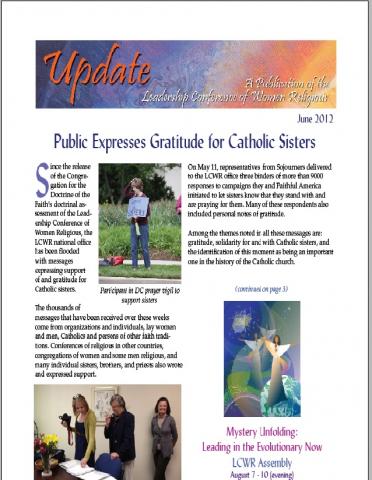 A Counter-Melody Beneath the Words
As the LCWR presidency met with various Vatican councils and congregations shortly after Easter, our experiences paralleled those of the liturgical season recalling death and resurrection, persecution and a faith community committed to the Gospel, and Jesus' greeting to his dispirited disciples, "fear not, I bring you peace." We appreciate your prayers, words of wisdom, and encouragement as we continue to discern both "what is the new emerging?" and our response to the mandate given to LCWR by the Congregation for the Doctrine of the Faith.
Our meeting with Archbishop José Octavio Ruiz Arenas, secretary of the Pontifical Council for Promoting New Evangelization, was a sign of hope for me. Pope Benedict XVI announced his intent to create this council in 2010 to re-evangelize societies with a long Catholic tradition which are becoming more secularized and losing their sense of God. He recalled that Pope John Paul II used the phrase "new evangelization" to describe the need for a new commitment to spreading the Gospel message in ways that correspond both to the truth and to the needs of modern men and women.[1]
By Florence Deacon, OSF  (Read more by downloading PDF of newsletter)
---
[1]  Cindy Wooden, "Pope announces formation of pontifical council for new evangelization," Catholic News Service, June 28, 2010.