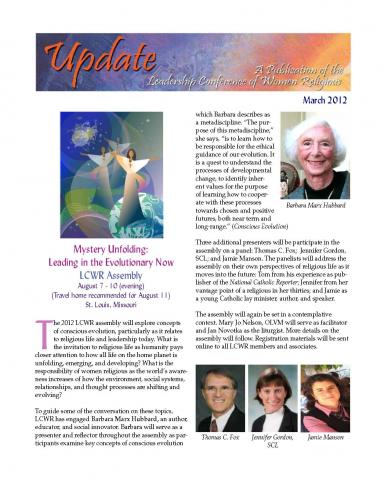 Walking Together in Service of the Gospel of Jesus Christ
A few weeks ago I attended the opening of the final stop of the Women & Spirit traveling museum exhibit in Sacramento. It was a glorious occasion, a bittersweet celebration, knowing that this excellent exhibit would not continue past June, but that more than a million people have learned about the contributions women religious have made to the growth of the United States.
Over the past three years we have had other bittersweet experiences. While LCWR was in the midst of a doctrinal assessment and religious congregations were involved in a multi-phased apostolic visitation, the Women & Spirit exhibit was traversing the United States. When it seemed our fidelity and commitment to the Gospel was being questioned, we received much needed affirmation from our religious colleagues and others.
Cardinal Sean O'Malley, chair of the USCCB Committee on Clergy, Consecrated Life and Vocations wrote a letter of appreciation, as did the Spiritual Directors International Coordinating Council. Several groups either honored or expressed particular appreciation for women religious, such as the US Catholic Historical Society and the National Federation of Priests' Councils who gave awards for service to Catholic studies and for service to the Gospel of Jesus Christ respectively; the University of San Francisco who conferred an honorary doctorate on women religious; and the US House of Representatives and the California Legislature who passed resolutions which highlighted the contributions of women religious.
Just as we received support and encouragement when we felt our commitment to our way of life was being challenged, I invite you to reach out to our brother clergy who feel demoralized and under siege from a variety of sources. Some have shared with me that they are tired and disillusioned by the "reform of the reforms" diluting the changes of Vatican Council II, by the erosion of parishioners' trust in them, by having to implement policies they question, and by the reduction of the role of the laity which makes their ministry more burdensome at a time they thought it would be shared. While some priests are returning to clerical garb that stress distinctions of rank, others are uncomfortable even wearing a Roman collar in public because they fear negative comments.
by Florence Deacon, OSF