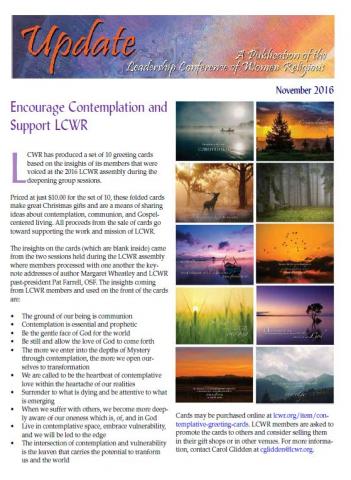 Be of Love ...
by Marcia Allen, CSJ -- LCWR Past President
"Love is the most durable power in the world. This creative force, so beautifully exemplified in the life of our Christ is the most potent instrument available to mankind's (sic) quest for peace and security." -- M. L. King, Jr.
As I write this message I am aware that my deadline for submitting it precedes the end of our national elections characterized with vitriolic speech and violent actions. As I pondered what to write when this is so much on our minds, Martin Luther King, Jr.'s continuous driving force in his speech and writing came to mind instantly: "Love is the only force capable of transforming an enemy into a friend," he said. This fundamental philosophy and commitment lay at the foundation of his nonviolent life and leadership.
This season of violence characterized by the mysterious turn of the American culture away from its highest ideals, from its pride and values that have underpinned our democracy for so long seems suddenly to have overturned us as a people. We reveal what quite possibly has been simmering here for a long time: racism of every ilk, exclusionism with privilege for some. Download the PDF version of the newsletter below to continue reading.