Sex-Trafficking in the Hotel Industry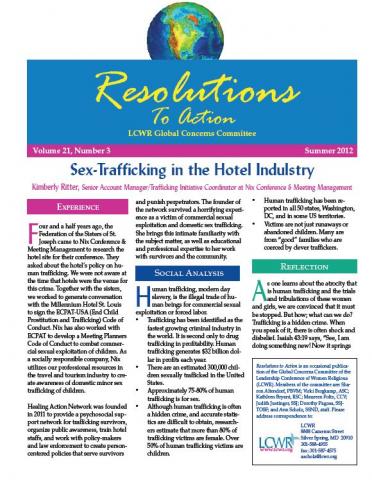 Four and a half years ago, the Federation of the Sisters of St. Joseph came to Nix Conference & Meeting Management to research the hotel site for their conference. They asked about the hotel's policy on human trafficking. We were not aware at the time that hotels were the venue for this crime. Together with the sisters, we worked to generate conversation with the Millennium Hotel St. Louis to sign the ECPAT-USA (End Child Prostitution and Trafficking) Code of Conduct. Nix has also worked with ECPAT to develop a Meeting Planners Code of Conduct to combat commercial sexual exploitation of children. As a socially responsible company, Nix utilizes our professional resources in the travel and tourism industry to create awareness of domestic minor sex trafficking of children.
Healing Action Network was founded in 2011 to provide a psychosocial support network for trafficking survivors, organize public awareness, train hotel staffs, and work with policy-makers and law enforcement to create person-centered policies that serve survivors and punish perpetrators. The founder of the network survived a horrifying experience as a victim of commercial sexual exploitation and domestic sex trafficking. She brings this intimate familiarity with the subject matter, as well as educational and professional expertise to her work with survivors and the community. Read more by going to the attachment below.