Study of Women's Leadership Roles in the Catholic Church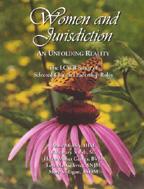 Women and Jurisdiction: An Unfolding Reality
The LCWR Study of Selected Church Leadership Roles
by Anne Munley, IHM; Rosemary Smith, SC; Helen Maher Garvey, BVM; Lois MacGillivray, SNJM; and Mary Milligan, RSHM
This LCWR study was undertaken to provide descriptive data to enhance understanding of the manner in which the non-ordained participate in the practice of jurisdiction in the United States. The project is one of the ways in which LCWR has contributed to dialogue about ways in which those who are not ordained can participate more fully in governance in the Roman Catholic Church.
The project was also done in response to the call of Pope John Paul II and the bishops of the United States to foster greater involvement of women in the leadership and operations of the church, and thus focuses specifically on women's participation in governance. The research concentrates on the experience of women in six roles within the church: chancellor, tribunal judge, finance director, director of Catholic Charities, vicar/delegate for religious, and pastoral director of a parish.
For information on ordering a copy of Women and Jurisdiction, contact Carol Glidden at cglidden@lcwr.org.