Summer 2013: Exploring the Richness of Fallow Time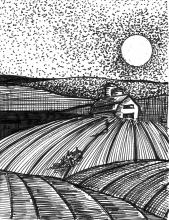 As the season of Advent 2012 began, the LCWR officers wrote to the members about the doctrinal assessment of LCWR by the Congregation for the Doctrine of the Faith. They noted that they found themselves "in the praxis of advent, waiting for the word to come to us from God as we enter into listening and conversing."
As the conference continues its commitment to communal and personal contemplation on the work of God in our midst, LCWR offers this next issue of Occasional Papers as a reflection on living in fallow time. The articles and interviews are resources for exploring the riches and depths of this collectively quieter, more still time for the conference. The content focuses on the work of the Spirit, communal discernment, and on what both scripture and nature can teach us about fallow time. Writers also explore Joanna Macy's "empowering shifts in perception" and how they may influence the exercise of leadership in these times. Among the contributors to this issue are Dianne Bergeant, CSA; Donald Goergen, OP; and Joanna Macy.
Contents
'Let it Rest and Lie Fallow'
Dianne Bergant, CSA examines on what scripture can teach us about fallow times, and particularly in relationship to this time for US women religious
Resurrection Fields
Lyn Szymkiewicz, CSJ explores what the collective wisdom of the universe has to offer us while living in fallow time
Encountering the Holy Spirit
In an interview, Donald Goergen, OP offers insights on contemporary religious life, contemplation, and the workings of the Spirit
Communal Discernment: A Governance Style for Generative Adults
Carole Shinnick, SSND opens up new understandings of governance structures, obedience, and communal discernment
Living and Leading with Active Hope
Eco-Philosopher and author Joanna Macy comments on the call to live with active hope and in particular on LCWR and its response to the CDF doctrinal assessment
Empowering Shifts in Perception
Seven LCWR members reflect on the call to religious life leaders to move beyond the familiar and see with new eyes