Update (August/September 2011)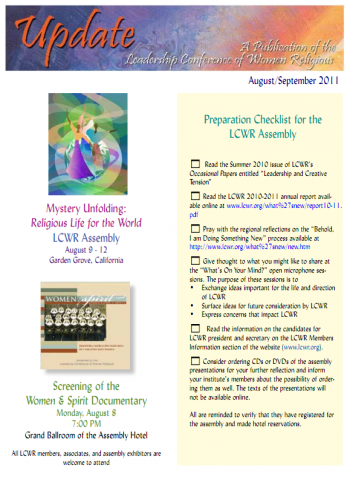 The LCWR Presidency: An Unparalleled Life Experience
In a couple of weeks many of us will be traveling to California for the LCWR 2011 Assembly. We look forward to being together, to the refreshment and inspiration offered by our keynote speakers, and all the efforts to continue our movement into the future. For me, this will be my last assembly serving in the presidency. In my whole being is heartfelt gratitude for the grace and relationships that have been gifted me by all of you during the past three years. 
As a conference we have traversed a journey of challenges and questions about the future which truly have taken us outside of a regular mode of "business as usual." At times I've been asked what we have learned in the experiences of the past years' Vatican inquiries. I continue to ponder this. I learned that there is tremendous spiritual power in the solidarity that has developed among us and all women religious around the world.  
I learned about and derived much strength from the sisterhood at this time. I became a little more humble while sometimes I was surprised at my own ability to courageously speak on a level of equal discipleship with church leadership. I learned that I could take action with what some call "prophetic nerve" and be at peace even in the midst of public derision by some critics.
by Marlene Weisenbeck, FSPA — LCWR Past President