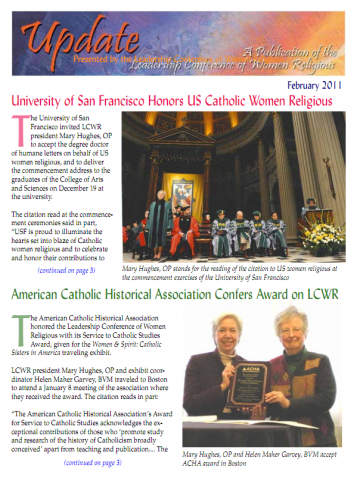 A Transforming Journey
The feast of the Incarnation is quickly followed by a plentitude of liturgical celebrations during Ordinary Time. God's overflowing love became human with us in the person of Christ. Christ took on every aspect of our ordinary lives beginning with his birth in a humble environment, his journey as an immigrant, his baptism calling him into a ministry of beatitude, and the fulfillment of his divine mission on the cross. The life of Jesus calls us likewise into that same transforming journey. 
In my last column I reflected that "creative fidelity" is our commitment to the journey and that our accountability will be witnessed in ways that honor the unpredictability of life's mysteries. We are constantly aware that relationships within our church and world serve as a never-ending awakening to the transformation to which the Gospel calls us. Biblical history gives us countless examples of the urgency of joining God in the ongoing work of acknowledging the emergence of the Kingdom as it exists today. It encourages its further coming which will hold the powers and principalities of our contemporary world to God's vision of peace and justice.
by Marlene Weisenbeck, FSPA — LCWR Past President