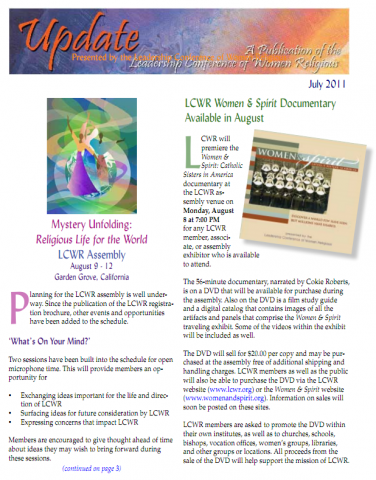 The Gifts of Summer
When I search through my calendar at this time of year, it is a relief to note that board meetings and meetings of sponsored ministries are rarely scheduled during the summer months. Long hours of daylight give me the illusion that I have more time. We begin to work our schedules around significant and pleasurable events such as vacation, retreat, and of course, the annual LCWR assembly in August.
These wonderful months of summer afford us an opportunity to breathe. They also offer us an opportunity to reflect upon significant things that may have touched our hearts during these past months. Too many of us have needed to say our final goodbyes to sisters with whom we have shared life. We may have needed to close a ministry that was held dear by our congregations. We have finished our parts in the apostolic visitation and we await word on the doctrinal assessment. We hold mixed feelings of grieving, of relief, of anticipation, perhaps some anger, and yes, some exhaustion. We welcome this "down time" feeling as though we both need and deserve a break. We do. However, the time summer affords us is not simply time off. It is a time for attentiveness and replenishing.
During these next two months we will have splendid opportunities to see the beauty of God's creation, to watch the miracles of growth and flowering, and to observe the natural rhythms that occur between sunrise and sunset. These invite us to be attentive to all God has provided for us and summon us to a renewed awareness of the sacredness of all God has created. 
by Mary Hughes, OP — LCWR President