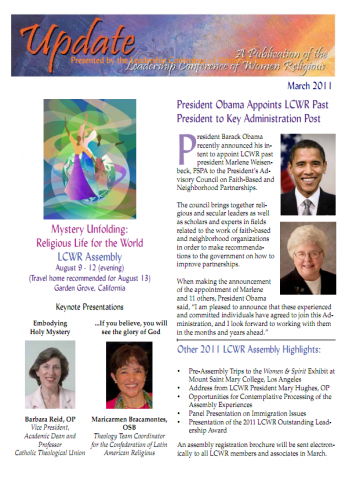 Leading from Vulnerability
I recently saw the movie The King's Speech. A poignant drama, it tells the story of a stammering king whose speech impediment is painfully visible in his public role. With the support and friendship of a speech therapist, he finds his voice and leads effectively at a critical time.  I was struck by the interplay of strength and vulnerability in the king, and sensed my own experience of leadership reflected in that.  It has been on my mind as Lent approaches.
Lent's annual invitation to transformation is always fresh. This year, the path of conversion suggested to me by The King's Speech is one of leading from vulnerability.  Rather than a denial of our power, the capacity to stand in our own vulnerability and to lead from there is a genuine strength.
"Leading from within" our congregations invites the vulnerability of authentic response.  As congregational leaders, we do not stand apart from the experience of the rest of the community. We ask the same questions, are shaped by the same congregational context, and face similar opportunities and diminishments. To respond to these situations with genuine honesty can be clarifying and freeing, an important though vulnerable leadership function.   
by Pat Farrell, OSF — LCWR President-Elect