The 'Behold, I am Doing Something New' Process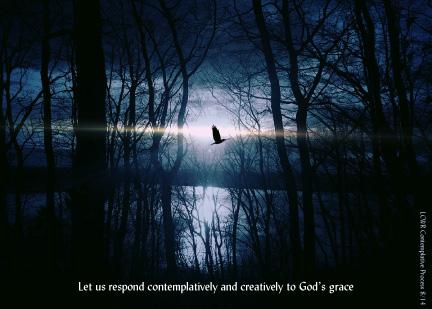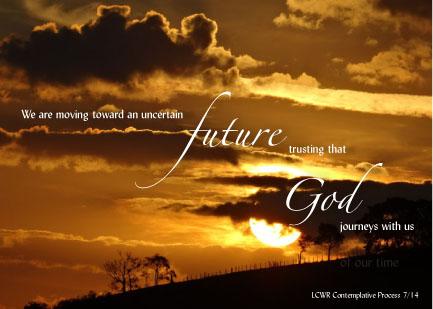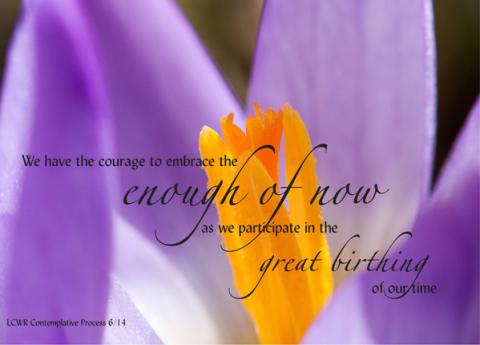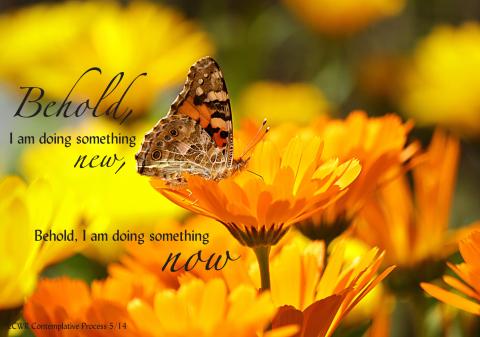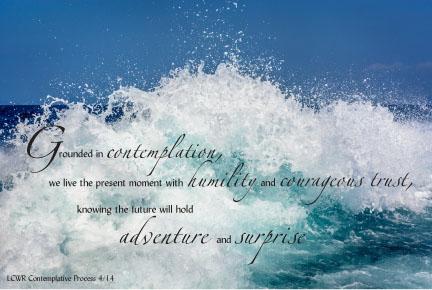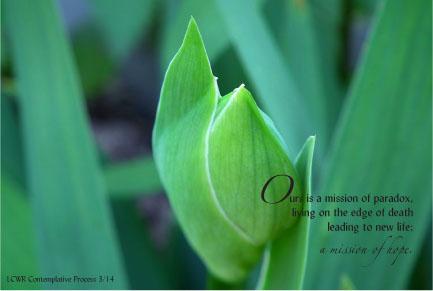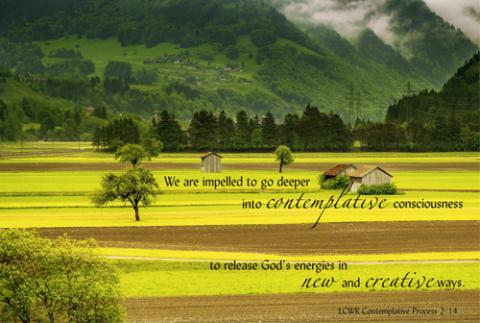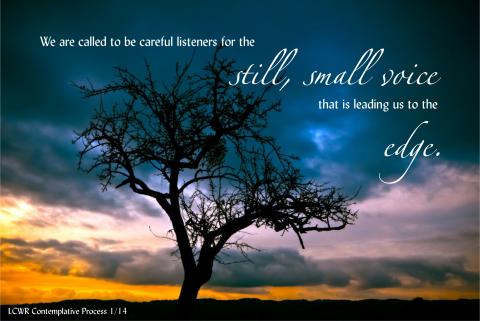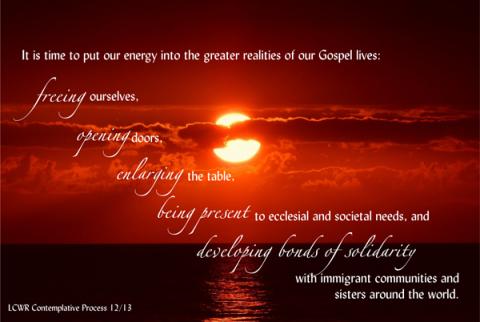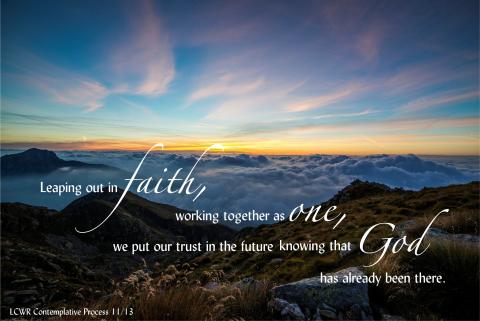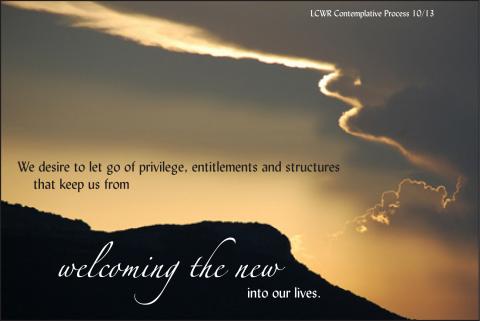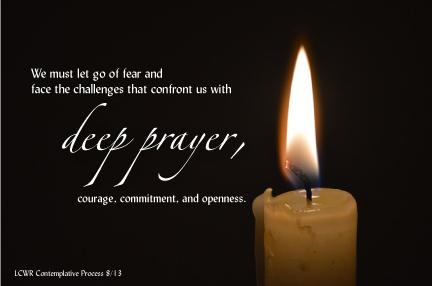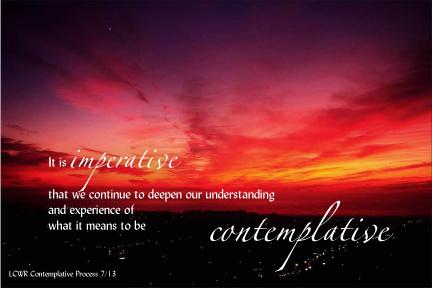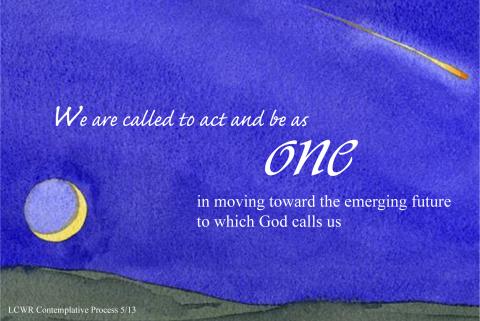 LCWR is engaging its members in a contemplative process designed to create a national conversation among all women religious about the critical questions on the horizon for religious life. The hope is that such a national conversation would:
Enable greater contemplative engagement with the emerging questions being faced by the world and church
Strengthen and shape the mission of US women religious
Strengthen the solidarity among women religious
LCWR members are being asked to include a contemplative process in all of their gatherings that is based on the passage from Isaiah 43:19: "Behold, I am doing something new... Can you not perceive it?" The process concludes with the group creating a brief statement that captures at least one of the key insights emerging on what "the new" is to which God is leading us.
These statements will be posted on this site as they are received. All LCWR members and all women religious are asked to reflect on, pray with, and converse about these statements as we communally discern where women religious are being led in service of the needs of the world.
Guide for Leading the Contemplative Process
Reflections on the Contemplative Process
2015 LCWR New Leader Workshop Participants
Submitted by Susan Francois, CSJP & Mindy McDonald, CSJP
We find ourselves in a deeply contemplative stance.
We are called …
To a deeper union and communion with our creator, ourselves, each other, and the entire created world.
To radical connectivity and collaboration as we move from a sense of "I" to a sense of "We."
To a Christ-centered life –
Modeling nonviolence as peacemakers,
Committed to the mission of Jesus
Responding to the needs of the day and people on the margins.
To a profound concern for the care of our Sisters
To the collective inner work of grieving –
As grace and gift,
As a step in midwifing a new form of religious life.
To place an accent on the charism of consecrated life –
Global networking to support the future of religious life,
Leadership development among younger members,
Sharing resources and wisdom while open to new expressions of religious life and models of intercultural inclusion.
We are aging but vibrant members of the community, and so we use our voice as bearers of light and hope –
To be a source of compassion, to affirm, to give life. 
We have all that we need, so we live the paradoxes. 
We are called to be light in darkness, joyful hope amidst despair.
LCWR Regions
Fall 2015
Region 9
We feel LCWR is being called to contemplative dialogue with church leaders about engaging women in all areas of decision-making in the Church so that the processes and outcomes may be enriched by the wisdom, life experiences, and perspectives of women.
Region 12
Grouded listening quietly to the god within, aware of the gift of a contemplative stance, we receive wisdom that God wants to give us.  We dream more often, we share deply, and experience transformation of the heart.  We feel connected with the brokenness of our world and emerse ourselves in places of suffering.  We are called to live, love and act on the periphery as "advance troops and first responders".  Building community we serve, we lead, and we encourage our members.
Spring 2015
Region 2
Contemplating mystery unfolding this year, and our sisters' experience in Selma, we recognize the impact and responsibility we have as women religious leaders, and we commit to non-violence, contemplation, and dynamic dialogue to transform experiences of oppression and racism, into justice and peace.  And we are called to dialogue and sit at tables sometimes, where we may not be welcome.  We will be faithful, no matter how long the night, offering the gift of hope to the world.
Region 3
In response to Tony Gitten's presentation, "Mission at the Margins," we realize that we are continually being called to bridge diversity and to build unity.  Hope and faithfulness emerge as the Spirit disturbs us to energize our committment to persons who are marginalized, persons who are present in our ministries and in our communities.
Region 4
The LCWR Call 2015-2022 provides a dynamic context for our interdependence with all of creation and sets a contemplative tone to the "call" for women religious today.  In that light we are impelled to be faithful to our contemplative stance, to be responsive to the needs of our world, to witness to the value of community, to look anew at LCWR with fresh, creative thinking and to step into a strengthened role as ecclesial women.
Region 5
In collaboration with others, be engaged with those suffering injustices, in order to create systemic change needed for a more just global society.
Region 7
Women Religious are being called to the 'fault lines' of society, those places of stress, uncertainty, violence and then to stand in solidarity with those we find there.  These are the places that remind us that we are not here for ourselves, but to be in Mission.  We are also not in "it" alone.  We are traveling the journey together in radical relationships, contemplation, collaboration and learning to listen to deepest desires and longings of the heart of other.
Region 8
Grateful for this resurrection moment, we faithfully respond to God's call by modelling and mentoring the Gospel more boldly in contemplative action.
Region 9
LCWR is called to be the radical message of the gospel offering hope, wisdom, and love in our global world.
Region 10
Our call to be prophetic requires that, from a place of contemplation and compassion, we speak the truth courageously.
Region 11
In a spirit of hope and building on the solidarity that exists among women religious, as leaders, desire to develop reality-based and spirit-led ways to create a future together and with others to live the mission of Jesus in meeting the needs of today's world.
Region 12
Through the Holy Spirit the Contemplative process has enlightened us, empowered us with a sense of hope.  We see the positive consequences of the CDF mandate which is freeing.  We are deeply cognizant of the support we receive from each other, the togertherness in sharing challenges at the Regional level, and in our vulnerability of leadership.  Our life of prayer and our vows form the most essential element of who we are.  We are valiant women, gifted, talented and we are being transformed.
Region 13
We are women, who knowing God is with us, are living the Gospel in who we are and in all that we do.
Region 14
Acompanarnos...
Walking together we are enough because our vulnerability is the birthplace of our strength, joy, creativity and love.
Somos suficientes porque en nuestra vulnerabilidad es donde nace la alegria, la creativdad y el amor.
Region 15
Like the stars whose light is released and spent billions of years after their beginnings, our charisms are being released and will be experienced into the future long after we are a mere cosmic memory.  Thus how we live and how we relate matters.  We have witnessed a transformative way of communicating as modeled by our LCWR leadership.  May this way of relating continue to transform our relationship with God, one another, our world and all creation.
Fall 2014
Region 2
Deeply rooted in its contemplative stance, LCWR Claims its prophetic role within the  Church in a way that generates hope for our world and invites others to collaborate in works for social justice in response to the needs of our time.  LCWR members lead their congregations in embracing this prophetic role at local, national and global levels.
Region 4
We affirm the LCWR Call and embrace the challenges of contemplative decision-making in our present reality, according to Gospel values.  We are committed to building right relationships with other prophetic women, with the Church, and with society.  We will demonstrate leadership in part by forming the next generation of Catholic disciples, and by being a bridge from previous generations of religious to those who will come after us.
Region 5
After reflecting and conversing on the LCWR Call, our region felt that in this time of uncertainty and change, we are called to be prophetic leaders who collectively model a vibrant faith and rich legacy to an evolving church effecting global and social changes.
Region 6
As women religious, we are continuously awakened to our role of being signs of hope, committed to radical Gospel living and affirming the holy relationship between and among all creation.  We embrace our call to interact with all creation in peaceful, nurturing ways as we continue to expand bridge-building within our congregations, local communities, the Church and our world.  We affirm the bold and prophetic leadership of LCWR and commit ourselves to nurture unity which will reenergize us for mission.
Region 8
In light of the Call and the movement of Holy Mystery, LCWR is called to embrace this moment for the sake of the Church and all God's creation.  Grounded in contemplative consciousness, we stand with others on the margins of God's spaciousness.
Region 9
Out of our ever deepening contemplative stance we build the quality of our relationships to live gospel values and lift up those we serve in our church and world.
Regions 10
Faithful to the mission of LCWR, we are called as women religious to deepen our mystic, contemplative stance as we:
Audaciously identify and respond to the critical needs within our church, our society and all of creation;
Prophetically affect systemic change to meet these needs;
Courageously dialogue and discern on all levls to achieve reconciliation;
And creatively assure the future of religious life for those who follow in our steadfast footsteps.
Region 11
Through transformative listening, a non-violent stance and reconciliation, we serve with hope the global church and world.
Region 12
Our emerging reality is hopeful, trusting in the midst of darkness and light.  Wisdom is accumulated in the transitions and in walking together, step by step, with interdependence and solidarity.  In this time of letting go and letting come we hold a greater sense of our commonality and similar challenges.  We remain alert for the "someting new" God is creating with us.
Region 13
We are called to give witness to our shared love of God by staying at the table, deepening our contemplative stance and being courageous in prophetically ministering to those on the margins and beyond.
Region 14
Commitment to our LCWR call to communal contemplative dialogue moves us to loving relationship and inclusivity.
Region 15
To deepen relationships with our various constituencies to build solidarity with newer religious communities, bishops, women and children, immigrants, and others, in order to see one another with new eyes and transform the world.
Fall 2013
Region 1
We can have confidence that "The New" has very deep roots in the journey we have taken, supported by one another, from our initial inspiration through institutionalization to today's transformative call to be hope filled, prophetic presence in our congregations, in the church and in our world, as we meet the exigencies that emerge in our daily lives.
Region 3
Out of a contemplative grounding, to respond to what is emerging and to deepen our collaboration with one another and the world.
Region 4
What we in Region IV perceive is emerging in our journey in contemporary religious life is:  a call to go deeper in our contemplative reflections and processes, to stay faithful to who we are called to be at this time in history, and to go forward sharing our gifts and giving witness to the new consciousness of the interrelatedness of all of life as we respond to the needs of our time with compassion.
Region 5
The spirit is moving in a positive direction, giving us the experience of cohesiveness.  Responding with integrity, we give LCWR and our religious institutions the freedom to be about the mission.  Leaping out in faith, working together as one, we put our trust in the future knowing that God has already been there.
Region 6
In light of all that we have heard from one another, the ONE key insight from our reflection and conversation that we wish to share with the LCWR membership is:
The awareness that our congregations, LCWR, and women religious are acknowledging that death is a part of the evolution of life and that deepening relationships among ourselves and all creation helps us participate in the creation of the future that is the resurrected Christ.
Region 7
We commit to continue building right relationships among ourselves and with our bishops in order to deepen and widen our connectedness and enhance our collaborative efforts for the sake of the Gospel and the common good, all the while striving for personal transformation.
Region 8
We are called to courageously reclaim our passion as women religious for the relationships that further connectedness and lead us to deeper awareness of the transforming power of the Spirit, who through chaos and in diversity, is the energy guiding us through Gospel living into a cosmic oneness.
Region 9
Trusting in God's Spirit, we are birthing a legacy of love whose Gospel promise surprises us with its newness.
Region 10
It is time to put our energy into the greater realities of our Gospel lives: freeing ourselves, opening doors, enlarging the table, being present to others around ecclesial and societal needs, and developing bonds of solidarity with immigrant communities and sisters around the world.
We cannot let anything or anyone pull us away from who we are and what we are about.  We want to be faithful to the mystery of oneness and a deepening mutuality while evolving around a new consciousness.
Region 11
That the impact of our deepening sense of solidarity with all religious, laity and people of other cultures and faiths, enable us to collaborate on the issues that face our world, i.e human trafficking, immigration, ecological concerns etc.
Region 13
It is time to move beyond fear.  It is time to move with integrity rooted in Gospel values.  We pray for the grace to have courageous conversations and courageous actions.  Let us take an LCWR stance that will empower us to stand in solidarity with the marginalized.
Region 14
With energy and commitment, we embrace living into an unknown future together, trusting God's Spirit to unfold the new:
Ways of being in relationship with the Church and the world;
Ways of understanding and living the essence of vowed life;
And new ways of proclaiming a dynamic prophetic witness.
Region 15
As members of Region 15 considered the emerging realities presented to us in our Fall 2013 agenda, we heard expressed a deep desire to free ourselves from the knots and nots that hinder us from perceiving the signs of the times and making room for a wholehearted "yes" to the Gospel call.  Words which catch the nuances of our conversation include the following: contemplative, relational, generative, legacy, collaboration, solidarity, empowering and courageous.
Spring 2013
Region 1
Our contemplative process provides a way of faithful listening to God's call in response to women's needs today.
Region 2
We live in hope and we recognize unacknowledged resistances that keep us from the unfolding essence and purpose of our lives in this time.  We desire to let go of privilege, entitlements and structures that keep us from welcoming the new into our lives.  We are supported in this endeavor by our collaboration with one another as we stretch across congregational boundaries in our "conspiracy of goodness" based in the Gospels, that responds to the cry of humanity in this time and space.
Region 3
As women religious representing rich and diverse charisms, we feel called to act and be as one in moving toward the emerging future to which God calls us.
Region 5
Living with the gifts and the tensions of the present and the evolving future, we acknowledge the need to collaborate in order to continue to respond in ministry to God's people.
Region 6
Our future is much bigger than the CDF and ourselves.  We continue to be faithful to our Gospel call and will stay at the table as women of integrity.  We acknowledge our current reality as we move towards a collaborative and hope-filled future in relationship with one another.  We need to continue to place our trust in God who has been with our congregations since we first responded to the call to be Gospel women.
Region 7
The charism of religious life is prophetic.  Time will judge what is prophetic about our actions and responses to the signs of the times.  We continue to ask ourselves what would Jesus do in the circumstances in which we find ourselves at this time.  It is imperative that we continue to deepen our understanding and experience of what it means to be contemplative.  Our hope is that there can be many expressions of religious life and that they not be held in opposition to one another.
Region 8
We are untied as ONE to balance our engagement with the present and our openness to creating something new.  We contemplatively and creatively respond to God's grace that continues to transform us into faithful women of the Gospel called to bring about God's reign.
Region 9
Faithful to the Gospel, the courageous and passionate women of LCWR 9 collaborate with others to boldly risk moving forward "doing what is ours to do" while trusting the creative process and acting with Spirit-led integrity.
Region 10
The women religious of Region X are "being" something new!
We are:
stretching and deepening ourselves as we partner with our lay companions, the Church and the Cosmos.
living in a spiral of wholeness and brokenness as we actively embrace the future that invites discovery
evolving into our contemplative role as wisdom women
mid-wifing the renewal of Gospel values within religious life with confidence, vitality and integrity.
Region 11
Our Mission is to do God's mission and live communio. If we truly let God's mission invite and drive us, it shapes how we relate to one another and how we do what we do.
It is not about us. It is about God's mission, and wherever that takes us we are willing to go. This leads us to feel a great hope that God is at work in and through us. Less is more.
Region 12
We, as women religious, are called to a contemplative stance; to solidarity, collaboration and interconnectedness; to be true to who we are: women of integrity, faithful to the Gospel.  We must let go of fear, and face the challenges that confront us with deep prayer, courage, commitment and openness.
Region 13
We perceived life as a mystery to be lived in the midst of today's challenges.  We acknowledged our need to enter into the relationality of all life.  We heard the call of Planet Earth to make its house a house of prayer rather than a den of thieves.  (Mark 12:17)  We expressed our impulse to respond with compassion, integrity and justice as gospel women. 
Region 15
The one insight that we will share with LCWR: Filled with hope and trust that dialogue is possible, we US women religious in living out our charisms are committed to living out the Gospel by serving alongside the poor and marginalized. As women of integrity, we must speak our truth in love.
Fall 2012
Region 1
As leaders of Religious Congregations we are called to be courageous collaborators with each other and with laity as we move forward into birthing and living a new vision of Church, society and Religious Life.
Region 2
"We can justly consider that the future of humanity lives in the hands of those who are strong enough to provide coming generations with reasons for living and hope"
National call to come together – unity and solidarity
Be intentional about living in the spirit of Vatican II
Response to CDF may be our emerging gift
Mentoring is important as we move into the future
We call ourselves into deeper contemplation
Region 3
Behold, I am doing something new----Behold, I am doing something NOW! The time is now—we are the ones who must act in creative and collaborative ways with each other and without fear, pushing ourselves beyond our boundaries of charisms and consciousness. We need to refocus and integrate our initiatives so that the capacity for impact that we have to further the Gospel might be enhanced and re-imagined. If not now, when?
Region 4
Grounded in our identity as Gospel women religious we journey together and build relationships to foster greater collaboration to creatively address the unmet needs of our world and church.
Region 7
Now, more than ever, LCWR and its member congregations foster greater connectivity between and among themselves, other leadership groups of women religious across the world, their companions, associates and others who wish to raise their voices to respond to the needs of the world.  In communion with all creation and with one voice we speak truth to power as a hopeful sign of compassion and kindom in our world at this time.
This is the result of our contemplative process of October 29, 2012.  The words below are sung to the tune WORD OF GOD by Bernadette Farrell.
In communion,
with all creation,
Make us now
your hopeful sign.
Recreate us
as your compassion
for our world
and for this time.
With one voice,
Speak truth to power,
Make us now your hopeful sign.
Let us witness
to your kindom
for our world
and for this time.
Region 8
Faithfulness to contemplation fosters unity among us in living deeply the mission of Jesus Christ, moving us beyond our worldviews, standing in solidarity with all creation, and providing hope to the people of God.
Region 9
Members of LCWR Region 9 are women of faith for these evolutionary times, called to be: risk-takers rooted in the Gospel; joyful hope-bringers for the Church and world; courageous leaders embracing the questions and living our truth; supportive mentors and companions for one another; and careful listeners for the still, small voice that is leading us to the edge.
Region 10
Face the future with great trust and no fear.
Share the skills of contemplation, owning the wisdom we have and share the gifts with the groups we have, with people on the margins including the Bishops.
Chaos has energy in spite of the ambiguities.
Region 11
We want our perspective to be more global: aware of, respecting and recognizing diversity in all cultural forms of religious life.  To do this we need to have a strong sense of who we are, being grounded so we are open to other traditions.  The need for "partnering" was expressed as mutual give and take when we relate/bond with others.  In Christ there is oneness in our global cultural diversity.
Region 13
As women religious we are today's founders responding to the passions and needs of our times.  We are committed to exploring various forms of relationships and memberships as we continue to consciously evolve.
Region 14
How we want to be:
Continuing to live into our solidarity and partnership with one another, we accept our feminine institutional VOICE with humble integrity as Gospel women led by the Spirit.  We commit to continuing our contemplative stance and our compassionate outreach.
We want to be about:
As women of Vatican II on the national and regional levels, we are called to:
prophetic witness to God's action in the world
explore and experiment inter-congregational issues
offer the authenticity of our lifestyle to emerging congregations
Region 15
Living in hope, we are called to strengthen our collaborative approach to inclusive dialogue and mission. As we continue our journey of mystery and faith, we will direct our energy for mission toward prophetic initiatives for the sake of the common good, church and creation.
LCWR Executive Committee
November 7, 2012
We have the courage to embrace the enough of now as we participate in the great birthing of our time.  Our fidelity over time prepares us to be faithful now.  Many hunger for the nurture we can offer.
Spring 2012
Region 1
A cosmic contemplation leads us to new awareness and vision; a vision rooted in our day to day reality impacting the entire universe. The emerging new calls us to be immersed in the enduring outpouring of God's Love and to realize the interconnectedness of everyone and everything because of that Love. Ours is a mission of paradox, living on the edge of death leading to new life; a mission of hope! We embrace the unfolding mystery in faithfulness and trust.
Region 4
This is a moment of creative opportunity. We will respond from a position of:
fidelity to the call of who we are;
fidelity to the Gospel;
fidelity to our contemplative stance of naming the NEW that is emerging among us.
We will respond in dialogue with:
each other
the People of God
the hierarchy
Our response calls us to solidarity with one another that will lead us more deeply into transformation and risk.
Region 7
Grounded in contemplation, we live the present moment with humility and courageous trust, knowing the future will hold adventure and surprise.  With deep openness, we listen to what is happening in the events around us.  Our hearts are afire with energy for collaboration as we walk together and respond to the call of the Gospel.
Region 8
Trusting in our own experience, faithful to the Gospel and promptings of the Spirit, we commit ourselves to speak our truth with integrity, to deepen solidarity and to continue to dialogue during this transformative time.
Region 10
We, LCWR Region X, will deepen our awareness of being immersed in God's transforming, unifying love in order that we may more extravagantly share that love with others in our world.
We commit ourselves to creating new ways of being present as religious communities so that filled with hope we may walk with greater solidarity among ourselves and with others into the future.
Region 13
Having heard the Gospel call to welcome the stranger, we, the Region XIII members of LCWR, commit ourselves to advocate for the immigrant.  This may be done through prayer with and for the immigrant, by promoting policy reform at the national, state and local levels, by giving voice to current injustices and by companioning those who live among us.
We pledge ourselves to action, individually or in collaboration with other congregations.
Region 14
Together as women religious we are impelled to go deeper into contemplative consciousness to release God's energies in new and creative ways.
Region 15
Region 15's reflections converge around our need as vowed women religious to be a community of communities if we are to hopefully navigate the multiple challenges we face.  Leadership teams balance responsibilities for loving, supportive care of our frail, elderly members and attention to the community and ministry aspirations of newer members.  Our Church is a source of ambivalence for both women religious and many lay persons who look to us for signs of hope. Collaboration, rather than duplication of efforts, is essential.
Fall 2011
Region 1
Claiming the giftedness of our unity and integrity, LCWR will speak publicly with a corporate voice that emerges from a contemplative stance and a spirit of collaboration, to effect systemic change and better the lives of the poor.
Region 3
We feel within and among us a deep trust in the movement of God.  There is a sense of new life emerging through the many faces of chaos and uncertainty.  The integrity of who we are, together, compels us to embrace our ever-expanding solidarity that moves us into Oneness.  We yearn to continue engaging the contemplative prayer and discernment process and remain open to where we are led.  As women of hope, we see God's work being birthed in us.
Region 4
Women religious commit to Gospel living with renewed energy, wisdom and vision, being a prophetic and contemplative presence in our world.  Believing in our call and charisms impels us to act in solidarity with one another, to speak out for justice, to address the global needs of our times, and to risk for what is yet to be born.
Region 5
Women religious embrace the contemplative and prophetic call of all peoples.  We do this through our mission, characterized by unity, wisdom, and availability to overcome all forms of violence and injustice.
Region 6
We are "women and spirit" now called to prophetic Gospel witness with a passion for mission, faithfully probing where and how the Spirit calls us forward speaking truth to our church and world.
We call upon LCWR to refound moving to a more responsive model of simplicity and inclusivity, expanding definitions of membership and leadership educating ourselves, applying the Gospel to local, church, and global concerns, and moving these matters forward to the national agenda
Region 7
The source of our hope for the future of religious life is the power of our "we-ness" in solidarity with all others moved by this same Spirit of God.
We ask LCWR to deepen the dialogue among us and to assist us in learning the skills of intercultural living, all grounded in contemplation for the sake of God's mission.
Region 8
We are ready to enter a new level of engagement.  We ask the LCWR National board and staff to develop continuing processes to help us express our prophetic voice and nurture our positive energy as we participate together in God's creative work, rooted in the Gospel.
Region 9
As vowed women religious leaders in the Church we strive to witness authentically to the Good News proclaimed by Jesus Christ.  We embrace LCWR's mission to develop new leaders; promote collaborative leadership for the common good; and initiate and foster dialogue with others within and beyond the Church for transformative change.  We serve in solidarity with persons on the margins to bring about God's Reign.
Region 10
Continue to deepen the contemplative practice that has begun and find ways to encourage leaders to engage their members in more contemplative practices.  These contemplative practices will move us through fear to actions and life styles that speak to the needs of our time.  We call on LCWR to make contemplation and the action that follows from it a priority in its activities, programs and publications.
Region 11
The insight that emerges from our reflection is a need to develop contemplative listening as our prophetic gift to the church and the world.
Deeply rooted in the gospel and in our Christian tradition
Explicit focus on empowerment and formation of the laity
Does not depend on size or age of community/congregation
Involves a profound vulnerability…a dying to self as individuals and as congregations/communities
Region 12
What is emerging from our conversations is that the "something new" that we are experiencing is a yearning for a deeper relationship with God, and a desire for more meaningful collaboration with each other. We affirm the value of LCWR but believe that it needs restructuring:
To promote more collaboration on the regional level
To help us develop a stronger public and prophetic voice on issues of social justice
To facilitate new partnerships that support and empower others. 
Region 13
As ecclesial women, formed by the Gospel of Jesus, our lived experience as women religious and the call of Catholic social teaching, we as advocates of non-violence are committed to our own conversion to this value while urging others to find non-violent ways to confront the violence that permeates all levels of society – individual, political, social, ecclesial, and environmental.
Region 14
We are called to a deep contemplative listening, to become midwives to the birthing of something new.  We're the Women & Spirit today.   We are moving towards a new freedom, letting go of past hindrances and allowing the Spirit to speak.  As a result of the Apostolic Visitation we perceive a new interconnectedness, solidarity and collaboration among us.  The emerging experience is that life occurs at the regional level.  Therefore we invite the LCWR National Office to re-define its role and structure with this in mind.
Region 15
There is an atmosphere of polarization, racism, violence, and disregard for life and human dignity that has resulted from an abuse of power and a self-serving attitude that capitalizes on one's own agenda to the neglect of the greater good of the whole.
We believe that our commitment to the COMMON GOOD through the skills of non-violence, collaboration, and peacemaking that we women religious have honed over the years can provide a much-needed counter-cultural balance in our world today.
LCWR National Board -- August 15, 2011
Our contemplative depths unite and energize us
to fearlessly participate 
in the transforming power of dying
and in the Trinitarian dance of 
birthing right relationships –
relationships immersed in mutuality –
with one another, within our Church, 
and with global communities.
As we participate in God's unfolding mystery,
we will be a leaven, a transforming, freeing presence
for a fearful, fractured world.
LCWR Regions
Spring 2011
Region 1
Contemplative space draws us to cross borders in our hearts. We listen. We are inspired and enlightened by women of cultures other than our own. To incarnate cultures and inter-cultures dialog is indispensable as are courage, willingness to be transformed, and openness to live outside of our own cultural skin. Convergence of minds and hearts is birthed in presence. We need ongoing dialog and interaction with younger women in our Region, women of cultures other than our dominant culture. 
Region 2
Our vows are essential, a dynamic reality rooted in awareness of the deep, transformative call of God who is the Center of our lives. They call us to live in response to what really matters for the transformation of the world. They challenge us to lives of radical openness to God and God's future for the world, to peace in the midst of uncertainty, and to a passion for sharing who we are and what we have with others. 
Region 3
We embrace the Gospel of Jesus Christ and the lived traditions of our founding charisms, which give voice to the cry of the poor and call us to authentic transformation.  We claim our prophetic voices as women religious within the Church and commit ourselves to address the compelling needs of our global community and the sacredness of the Paschal Mystery that is being played out in our world and in our own lives.
Region 4
There is a growing consciousness among us of our communion with women both locally and globally. As this global spirituality takes hold in us, it energizes us and calls us to a deeper solidarity as we stand together and speak together in our mission and ministry to the world. 
Region 5
"Our Gospel mission impels us to respond to the suffering and needs of God's people and in solidarity with women religious throughout the world. We are called to use our diversity of gifts and charisms to be authentic voices of hope in presence and action for all." 
Region 6
We are aware that our cumulative spiritual wisdom within a new level of consciousness is more powerful than our works. We listen contemplatively and respond in a nurturing way to LIFE that is evolving in the Church and world by embracing Gospel Life through the Cross as well as the Resurrection. We are called to a new way of being, deeper intentional partnerships, which are global and interconnect all peoples and the planet with compassion as we speak Truth publicly and witness God's all-embracing Love to the most desperate peoples. 
Region 7
Grounded in God and our charisms, we will continue to be faithful to our call to be prophetic. Our responses are shaped both by the injustices that bring tears to our eyes and by our efforts to include broader partnerships. 
Region 8
We, as women religious, are called to be an incarnate presence in solidarity with the most vulnerable. Therefore we are spirit led women of the Gospel with an emerging sense of purpose to be a credible women's catholic voice among the people of God (Church). We are also called to live and grow together in the tension of the "not yet" by asking the hard questions for the people of God.
Region 9 
We believe that we are made for these times. Grounded in the God who calls us as women religious, we together as members of LCWR Region 9 commit ourselves to listen and collaborate globally with others in order to be a prophetic voice, a loving presence, and to work towards compassionate actions that help our needy world. 
Region 10
Having experienced a deepened sense of our solidarity as women religious, we will collaborate around issues of importance, focusing our energies wherever our passion leads us. We intentionally widen our circles of solidarity so that we can affect others and respond to pressing local and international challenges, speaking out boldly for human rights wherever they are disregarded.
Underlying our sense of commonality is the consciousness that we are one in God, united with the universe, and joined with the diverse peoples and cultures of our world. 
Region 11
With fire in our hearts and spirit, we strongly believe, as we move forward into the future, that we cannot be alone in our mission as Religious Women. We need to be collaborative and interdependent with one another as well as with the broader community. 
Region 12
We are called to claim, in a new and deeper way, our founding charisms and spirits, and to live these out in solidarity and communion as U.S. women religious, speaking out with one voice on issues affecting basic human rights and freedoms of women and children, especially victims of unjust immigration laws, human trafficking and violence along the Mexico/U.S. border. 
Region 13
Strengthened by our solidarity with one another, we deepen our commitment to the Gospel, by:
being in relationship with the vulnerable and marginalized,
being ambassadors of reconciliation and
being radicalized by our God through prayer and contemplation. 
Region 14
We experience solidarity, support and full relationships with each other. We are looking at our potential realistically, as we create a path through the unchartered mountains which symbolize our future. 
Region 15
Out of a deep sense of intercongregational solidarity and an awareness of our global interconnectedness and intercultural reality, religious women of today are called to live at the margins as courageous witnesses of integrity, hope, and reconciliation.
In a world marked by increasing conflict and dualistic thinking, our contemplative stance impels us to respond to the tensions within the Church and in the world in creative and prophetic ways.
LCWR National Board - February 17, 2011
With hearts open to embrace the erupting cries for freedom, dignity and wholeness, together we courageously claim: a compelling fidelity to an authentic Gospel witness for the sake of God's desire for the world. 
LCWR Regions
Fall 2010
Region 1
We see the emergence of women religious living in greater solidarity inter-congregationally and internationally giving public witness to the gospel imperatives and empowering other women to find their own voice.  Grounded in contemplative engagement with our present reality and informed by creative imagination, we stand in hope as we experience new energy of transformation, deeper authenticity and right-relationship with all humanity.  We are moving toward an uncertain future trusting that God journeys with us as we claim our new identity.
Region 2
Our unity and solidarity will allow us to be a focused force for transformation in our world and church, as we "stay at the table" and continue dialogue from a place of deep contemplative prayer.
Our skills and experience in collaboration and communication, our expanding global awareness expressed in new connections and networking, and our hope-filled and courageous attitude will help us to be a strong corporate and prophetic voice with our members in a world that needs our presence.
Region 3
Through our letting go, we discover a deeper contemplative and prophetic center from which we can speak and act.  Out of the richness of our diverse charisms, we move forward in unity with gentle boldness to witness our hope and solidarity with each other, the world and our church.
Region 4
As ecclesial women, we are called to give prophetic witness by responding to global realities from a place of integrity nourished by the contemplative dimension of our life. Our newly-found solidarity impels us to something greater than ourselves:
It shows the feminine face of God
It calls us to engage with those in poverty, the powerless and the voiceless to effect personal, communal and global transformation.
It leads us to collaborative action for/with others who have no voice/power.
Region 5
This is what we see emerging for vowed women religious in the U.S.
We are claiming our integral role as leaders in the church. As an entity of vowed women religious, we live alert to the reality that God continually births newness which focuses the church on the original gospel values.
We desire mutual, respectful dialogue with other leaders in the church to accomplish this.
Region 6
Grounded in deeper contemplation and discernment, we have a renewed belief in the value and prophetic witness of religious life.
With renewed energy, hope and solidarity we are willing to risk moving to a new level of consciousness based on our common vision of the Gospel and freely sharing that vision.
Faithful to the reign of God in our world, we commit ourselves to giving birth to this new reality in a global church.
We value communication among ourselves.
Region 7
We perceive the following to be the "something new" that is emerging:
letting go of our obsession to define the future of religious life
having a relaxed grasp to allow the future of religious life to respond to the unfolding (beyond our control) of God's mission
refraining from defining the call – rather responding to the call of the Spirit as it is revealed to us, drawing us forward
letting the reality of our global interconnection draw us into and shape the future of religious life
Region 8
To help the members of LCWR clarify our role as a collective voice of women religious, world-wide, in the church and world as we respond to the global unmet needs of the People of God.   This is what we ask of leadership.
Region 9
Women religious, standing in solidarity and collaboration with others, are helping to birth a prophetic movement toward peace, reconciliation and justice by:
contributing our best congregational gifts and resources as leaven in the process
deepening our own conversion and transformation
being willing to let go of structures that no longer serve us
expanding our relationships across boundaries of culture, race, gender, faith tradition
articulating and witnessing the Gospel values needed to foster an alternative reality coherent with those values
Region 10
Solidarity among women religious is not new but is stronger, more public, more global, more intentional and deeper. We are more conscious of the relational nature of religious life. We live in communion with the Other, one another, and the environment. 
Contemplation is our deep call. We sense a profound need for payer and listening in order to recognize the direction in which God is drawing us.
The Paschal Mystery is a guiding reality in our lives. It calls us to embrace diminishment and pain as well as new birth, living simultaneously the roles of hospice worker and midwife.
As women of a church in need of healing we seek to be a compassionate feminine presence open to dialogue and bridge-building. Standing with the poor, we hope to be the presence of that church for which they long.
We rouse one another to courage in these challenging times, energizing one another to be strong women of prophecy, solidarity and mission.
Region 11
How do we women religious foster, encourage, nurture, invite, explore,  expand and enjoy new forms of interconnection and models of community?
The challenges before us include:
Strengthening our contemplative prophetic witness
Mentoring and passing on skills for collaborative servant leadership
Fostering good communication that invites dialogue
Nurturing intercultural and intergenerational communities
Promoting storytelling and networking that moves us toward solidarity
Living as anawim in downward mobility
Living out of a global and inclusive consciousness which leads us to
Greater involvement in Church and society
Region 13
Women religious, steeped in contemplation and grounded in their relationship with Jesus, the Christ, stand in solidarity, ready and willing to embrace the challenges of their present reality and create a future filled with hope and love. Within them is a compelling urgency to let go of their past and move forward as one grace-filled people. Vibrant, energetic, and committed to unity, they offer themselves in service of the common good with their sisters and brothers who share this planet.  
Region 14
We recognize the deep solidarity we have as religious women to be prophetic not only in our actions but also by our lived witness. We listen to the Spirit as we respond to the signs of our times with reverence, non-violence and integrity.
Region 15
As we considered the "new" that is emerging within our communities, we focused on:deepening the contemplative aspect of our lives, recognizing that contemplation is foundation to action;
increasing sense of identity as courageous, hope-filled religious in the church;
increasing sense of solidarity within and outside our communities;
living into inter-cultural communities fostering an inter-cultural world;
increased commitment to engage in collaborative efforts addressing the critical issues.
We believe in the significant impact that our commitment to personal and communal transformation has on our world.
LCWR National Board -- August 16, 2010
The following is the insight reached by the LCWR national board members at the conclusion of their meetings following the LCWR assembly.
The real gift for us during this time of sharing was the clarity of thought that coalesced around the notions of solidarity and inclusivity. We have experienced a new, deep connection with one another and a sense of real communion as we live our way into new expressions of creative fidelity. We sense bonded energies and radical openness to what is unfolding. We are willing to wrestle with chaos – wherever necessary -- cognizant of the possible cost of such discipleship.