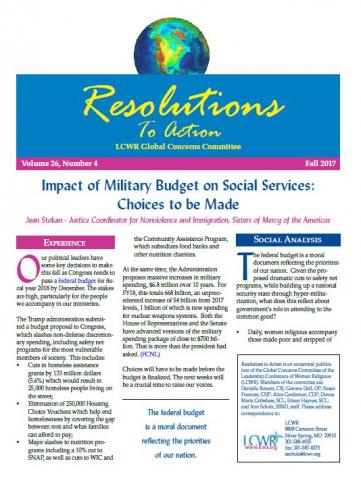 Impact of Military Budget on Social Services: Choices to be Made
by Jean Stokan
EXPERIENCE
Our political leaders have some key decisions to make this fall as Congress needs to pass a federal budget for fiscal year 2018 by December. The stakes are high, particularly for the people we accompany in our ministries.
The Trump administration submitted a budget proposal to Congress, which slashes non-defense discretionary spending, including safety net programs for the most vulnerable members of society.  This includes: 
Cuts in homeless assistance grants by 133 million dollars (5.6%) which would result in 25,000 homeless people living on the street;
Elimination of 250,000 Housing Choice Vouchers which help end homelessness by covering the gap between rent and what families can afford to pay;
Major slashes to nutrition programs including a 10% cut to SNAP, as well as cuts to WIC and the Community Assistance Program, which subsides food banks and other nutrition charities.
 Continue reading by downloading the PDF file below.