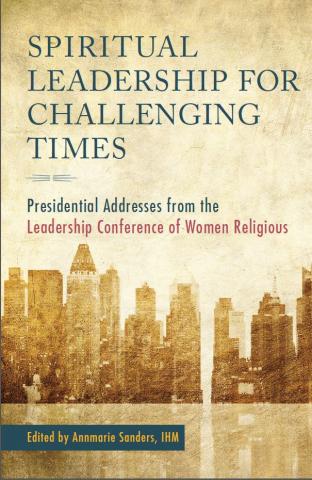 Spiritual Leadership for Challenging Times is a book of 10 addresses delivered over the years by the presidents of the Leadership Conference of Women Religious (LCWR), a national organization of the leaders of orders of Catholic sisters in the United States.
Prefacing each address is a brief summary of the key events that significantly impacted the world and the Catholic Church at the time the address was delivered at the organization's annual assembly. The addresses speak to the challenges these events posed to leaders at that time, as well as to the call to exercise leadership that was pastoral, discerning, and at times, exceptionally courageous.
These Catholic sisters, experienced in a variety of professional fields and grounded in a deep spirituality, draw upon insights from theology, the sciences, the arts, and many other disciplines to illuminate their understandings of the leadership their era demanded and needed. Well-practiced in reading the signs of the times, these women speak from their experience of leadership as they grapple with the impact of ecological devastation, war, human trafficking, terrorism, injustices leveled against women, and many of the other pressing issues of the post-modern culture. They demonstrate how to help others draw from their own spiritual depths and find hope in troubling times. They model how to be peace-builders and reconcilers. They show how to live and lead with an integrity and humility for which the world at large yearns and hungers.
Persons who are interested in leadership, and particularly spiritual leadership, as well as those concerned with women's issues, religious life, advocacy, justice, or the Catholic Church will find much to ponder in this collection of addresses. It is offered with the hope that these presentations will assist others who long to move forward the dream of making the world a better place for all.
The 10 LCWR presidents whose addresses are included are: Joan Chittister, OSB; Therese Kane, RSM; Nadine Foley, OP; Doris Goettemoeller, RSM; Nancy Schreck, OSF; Mary Ann Zollmann, BVM; Marlene Weisenbeck, FSPA; and Pat Farrell, OSF; as well as the late Margaret Cafferty, PBVM and Mary Whited, CPPS.
Reviews
"[A] stirring set of speeches. … should be of interest to all American Catholics, to women's groups, and to Vatican watchers." -- Library Journal (starred review)
"Powerful, profound, prophetic—these words of women religious leaders carry rich spiritual wisdom and challenge everyone in the church to walk their different vocational paths with the fullest measure of truth and love." — Elizabeth A. Johnson, CSJ -- Fordham University
"These addresses are remarkable articulations of the challenges faced and the contributions offered by women Religious who, amid massive misunderstanding, institutional resistance, and material loss, have been shining a steady light into the darkness of both culture and Church in the last three decades."  — Sandra M. Schneiders, IHM
"Lively, provocative and inspired reḀections given by some of the most thoughtful, educated, and faithful women in the Catholic church today." — James Martin, SJ
Ordering Information
$20.00 plus shipping and handling
• Charge Customers Call toll free 1.800.258.5838 M-F 8-4 ET
• Fax Orders: 914.941.7005 
   Info/Credit Card Orders: http://www.orbisbooks.com/spiritual-leadership-for-challenging-times.html
• Email: orbisbooks@maryknoll.org 
Order form can also be found below. A discount rate is available for LCWR members. (An LCWR order form with the discounted price is available on the Members' Information Page)
Solidarity with Sisters has created a set of discussion and reflection questions for this book. See link below.